Our fees are very reasonable, and once you have initial check-up done, we'll be able to provide you with a quote / treatment plan with the costs.
We accept all major cards.
We are a DentiCare Provider.
Payment Plan Options
Our dental practice offers payment plans for selected dental treatments.  Each tailored payment plan is managed by DentiCare direct debit services for your convenience and so we can focus on you, your smile and your dental healthcare needs.
There are no credit or finance contracts for our practice payment plans.  So please feel at ease and talk to us about payment plans so you can fulfill your dental and oral care needs.  Its your smile…!
SuperCare – Access your Superannuation to pay for your Dental Surgery
"Did you know that you can apply for the Early Release of your Superannuation to pay for your, or any of your family member's, dental & orthodontic treatments?"
We are happy to introduce SuperCare – an external service provider – that can assist you to make an Application via the Early Release of Superannuation (ERS) Program, operated by the Australian Taxation Office (ATO), to cover Dental & Orthodontic treatment costs.
SuperCare can help facilitate funding for most Dental procedures, including:
Implants and Dentures
Oral and Maxillofacial surgery
Braces and Orthodontics
Root Canal
Crown
General Dentistry
SuperCare's intention is to alleviate the stress and anxiety associated with the financial burden of Dental and Orthodontic treatments and, in doing so, support the health of all Australians.
SuperCare is the only company in Australia specifically established to assist Patients with their ERS Applications.
SuperCare's caring, knowledgeable and professional Consultants efficiently case manage every ERS Application to ensure a stress free and timely outcome. Each Applicant is kept fully informed and supported throughout the process and, as such, is made to feel 'special'.
SuperCare – with you every step of the way!
Patients are advised to contact SuperCare directly or to enquire via the SuperCare website.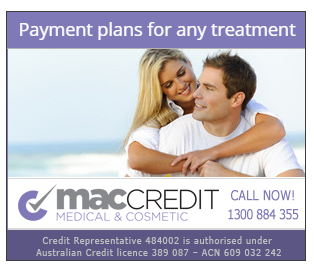 Specifically designed for Medical & Cosmetic treatments
Payment plans up to $70,000
The whole process is managed privately by macCREDIT Consultants
Up to 7 year terms
Flexible options – any additional repayments or rebates from Medicare/Private Health can be added back on to the payment plan at no extra charge
Fast efficient approvals, simply apply online
To go directly to the Mac Credit application and apply click here  
Terms & Conditions:
Speak to MAC CREDIT for a formal quote based on your circumstances and for the full terms and conditions. 
A full credit and financial assessment would need to be completed prior to acceptance of any offer or product.
Contact Us Today
or Book An Appointment Online Working Hours
Monday to Friday:
 9.00AM to 6.00PM (Thursday late appointment available till 7.00PM)
Saturday:
 By appointment only. Please call our friendly team or book online.
Sunday:
 Closed